Introduction
This report outlines the sources of greenhouse gas (GHG) emissions relating to Bury Council's estate and operations in 2021/22.
In our previous annual Greenhouse Gas reports, we have included data for academies, and their emissions have added to our total emissions from schools. As academies are no longer within the council's control, they have now been removed from our totals. Without the academies this report shows that there has been a 63% reduction in our emissions since our base year of 2008/09. In the interests of transparency, we felt it was important that we also point out that the reduction from the base year if we include the academies is 54%. This helps to quantify the impact of the removal of academies from our emissions total. For the remainder of the report all figures quoted for 2021/22 will not include academies.
Bury Council have set an objective of being carbon-neutral by 2038, however, emissions associated with Bury Council only make up a small percentage of overall emissions. Therefore, while the progress shown within this report is positive, it needs to be noted that we still have considerable way to go, and we can only reach out 2038 goal by encouraging our local communities to also get involved.
Covid-19
The UK entered its first national lockdown on the 23 March 2020. Due to the pandemic, Bury Council implemented an agile working policy from mid-March 2020 which promoted home working to help control Covid, whilst also delivering services. Although Covid restrictions were lifted in Summer 2021 the council has continued with its agile working policy approach and many officers have continued to work mainly from home.
The Council's building portfolio is now being assessed in the context of agile working and will be downscaled/repurposed in the coming years to reduce operating costs and the associated carbon emissions from Council buildings.
Measuring carbon emissions - Methodology
Emission factors
"2021 UK Conversion Factors for Company Reporting" have been used to provide the direct emissions of greenhouse gases which are shown as carbon dioxide equivalent (CO2e).
What areas of activity are included?
All areas of our operation, including Council operated buildings such as Council offices, schools, community, and leisure centres; Council related travel, and streetlighting.
Base year
Base year is 2008/09
Targets
Bury Council has declared a Climate Emergency and set a target for council buildings and operations to be carbon neutral by 2038. As technology has improved and operations have become more efficient, we have reduced our emissions by 63% from our base year. However, we still have a long way to go to reach carbon neutrality.
A Climate Strategy and Action Plan was approved by Cabinet in October 2021, which provides a wealth of actions for the Council to implement in coming years.
Data reported
The Government has identified 3 types of emissions described as follows:
Scope 1 - Emissions from activities that are owned or controlled by the Council and are released straight into the atmosphere for example, from Council owned boilers and vehicles
Scope 2 - Emissions released due to electricity use
Scope 3 - Emissions from equipment or vehicles that don't belong to the Council but are used to deliver Council functions for example, officers using their own cars for Council business
The Government recommends that the Council report Scope 1 and 2 emissions, whereas the reporting of Scope 3 emissions is discretionary.
This report includes all Scope 1 emissions except for fugitive emissions. Fugitive emissions are uncontrolled emissions from air conditioning and refrigeration units, and it was felt that this information would be difficult to collect accurately and would represent a very small percentage of the Council's total Scope 1 emissions.
All Scope 2 emissions have been included.
For Scope 3 emissions, the following have been included:
Business mileage in private cars and outsourced travel relating to car parking enforcement
Business travel
Losses in transmission of electricity (Government guidance advises that these emissions should appear in Scope 3)
Greenhouse Gas Reporting 2008/9 to 2021/22
Bury Council's greenhouse gas emissions from 2008/09 to 2021/22 reported in t of CO2e
(arrows show trend from base year)
Emission
Base year 2008 / 09
Last year 2020 / 21
This year 2021 / 22
Gas consumption (Scope 1)
11313
7028
5021
Owned equipment (Scope 1)
255
104
97
Owned transport (Scope 1)
1499
1565
1526
Total Scope 1
13067
8697
6642
Purchased electricity (Scope 2)
14560
4467
3734
Total Scope 2
14560
4467
3734
Business car travel (Scope 3)
570
156
300
Business rail travel (Scope 3)
18
0
1
Business air travel (Scope 3)
10
0
2
Electricity transmission and distribution losses (Scope 3)
1132
395
330
Total Scope 3
1730
551
630
Grand Total (Scope 1 to 3)
29357
13715
11007
Intensity measurement
(t of CO2e per £m revenue expenditure)
186
91
64
Bury Council's Carbon Reduction Progress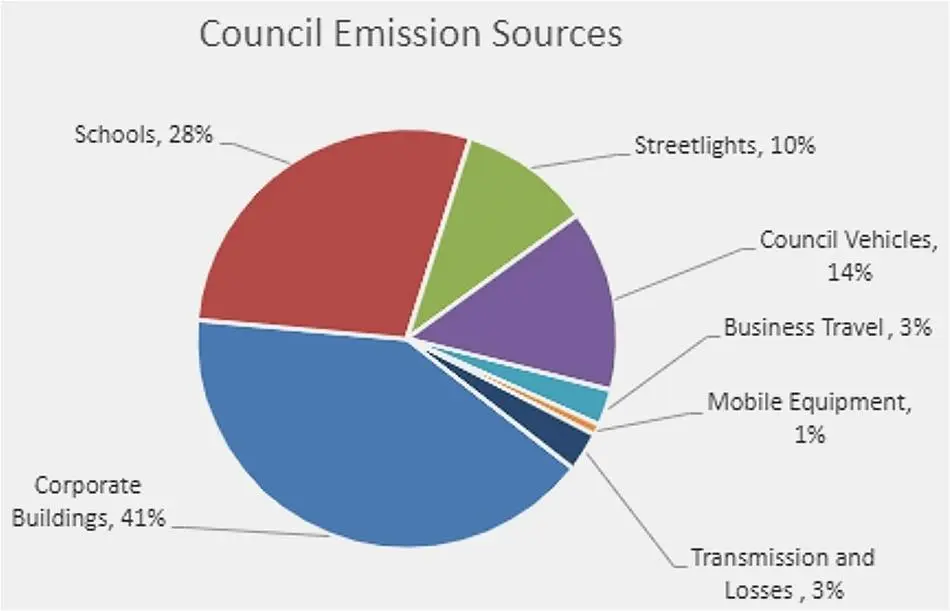 Council emission sources:
Corporate buildings: 41%
Schools: 28%
Streetlights: 10%
Council vehicles: 14%
Business travel: 3%
Mobile equipment: 1%
Transmission and losses: 3%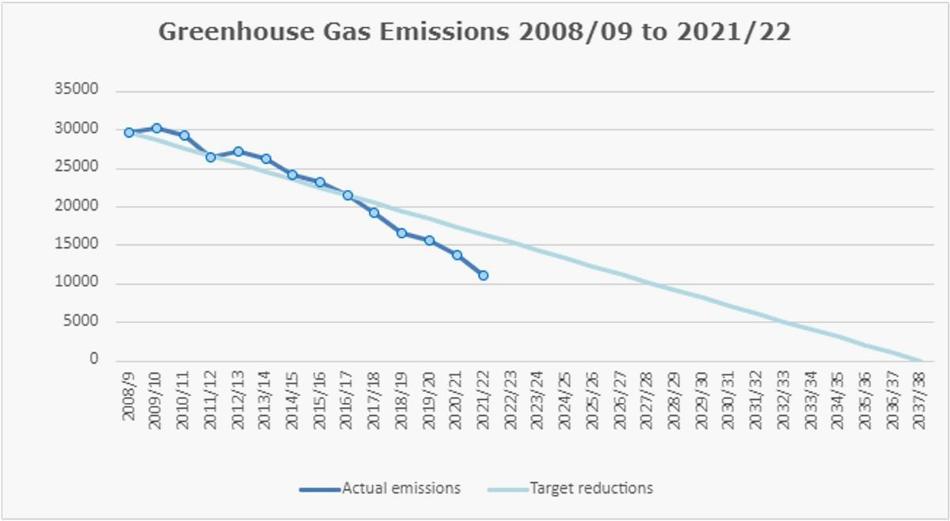 From the data and graphs it can be seen that:
Since the 2008/09 baseline there has been an 18,3487 tonnes reduction in total emissions, which represents a 63% decrease
69% of Bury Council's emissions come from corporate buildings and schools
The Council's travel emissions account for 17% of our total
Intensity measurement (tonnes of CO2e per £m revenue expenditure) has decreased significantly this year. The impact of Covid restrictions, agile working along with the removal of the academies form our total will have played a part in this reduction
The graph shows the projected target pathway if zero-carbon emissions are to be achieved by 2038. As can be seen, the Council is currently performing very well compared to the target pathway. However, it is recognised that reducing the remaining 11007 tonnes of CO2e to achieve net-zero will be difficult and require substantial work from the Council. It should also be noted that the Covid lockdown measures were still in existence for some of 2021/22 and therefore it is likely this will have reduced our emissions to some extent. We expect that the report for 2022/23 will give a more representative figure for current council working practices
To keep on track, it is recognised that the next stage involves greater challenges including:

Decarbonising buildings and replacing gas boilers with heat pumps
Increased renewable energy generation
Encourage walking and cycling amongst Council officers
Move Council vehicles towards electric and other low/zero carbon options
Electricity and gas usage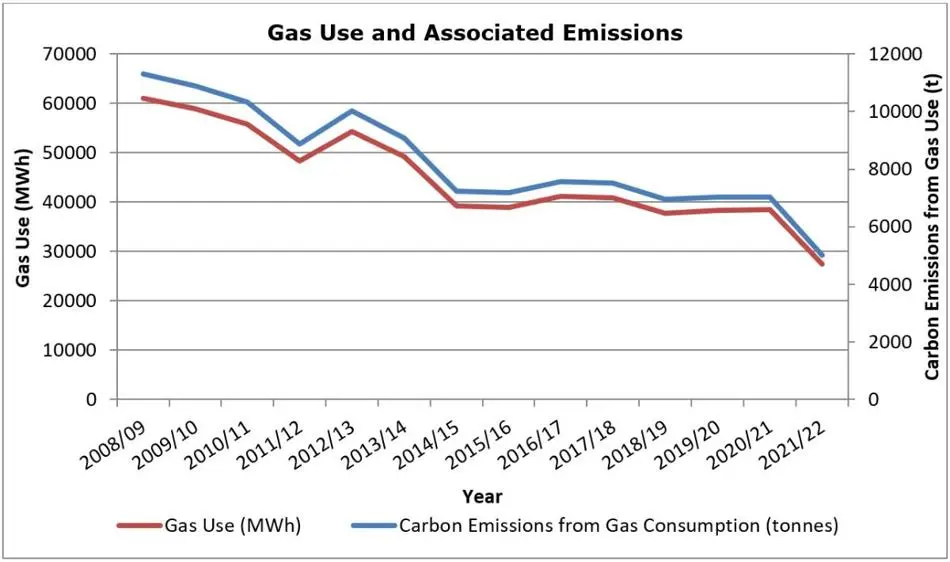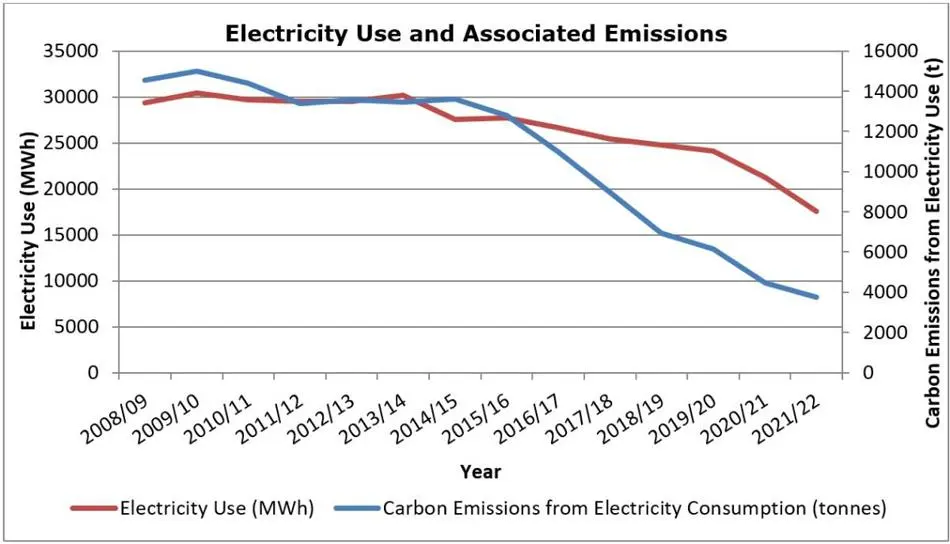 Emissions from gas use represent 46% of the Council's total carbon emissions and these emissions have decreased by 56% from the 2008/09 base year
The second of the above graphs shows that electricity use has decreased by 74% since our base year
Thanks to the decarbonisation of the national grid, a reduction in electricity use of 40% has resulted in a 74% carbon emissions reduction. As the UK energy supply moves away from coal to more renewable methods of energy, we can expect to see further reductions take place
Electricity consumption represents 34% of the Council's total emissions
Council vehicles
The figures indicate that emissions have increased by 27 tonnes of CO2e since the base year of 2008/09. Additional recycling collections have been introduced in Bury since the base year (food waste), leading to an increase in vehicle numbers required. Our £10 million investment in new vehicles (13 of which will be electric) and the use of Hydrotreated Vegetable Oil (HVO) as an alternative to diesel should bring a significant reduction in carbon emissions from our fleet in the coming years
New electric vehicle charging infrastructure will be put in place at Bradley Fold Depot and Bury Cemetery depot in 2022 to support the further introduction of electric vehicles into the council fleet
Business travel
Total emissions associated with business travel has seen a 49% decrease from the base year but a 94% increase from last year. This increase is clearly the impact of coming out of the strict Covid regulation which were in place for much of 2020/21
As we move forward, effort needs to be made to keep this figure down and ensure it stays on the downward trend we saw pre pandemic
Bury Council's Carbon Management activity update
Climate Action Team and Climate Action Strategy
As part of the Climate Emergency Funding, the Council have employed a Climate Action Officer, Graduate Climate Action Officer, and a Move More Officer to promote action across the Council
The Council approved the Climate Action Strategy and adjoining Climate Action Plan in October 2021 and will use this to push the climate action agenda
The Strategy clearly outlines several areas of action that the Council can and will improve upon over the coming years
Climate impacts must now be considered as part of all Cabinet Reports and intra-Council work is being done to improve awareness
A Carbon Literacy programme is currently being developed which will be rolled out across the Council to increase awareness to officers
Changes to Council Estate and Agile Working
In response to the Covid-19 pandemic, Bury Council implemented an agile working programme which has reduced building occupancy and future space requirements
The council are using £2.5m of the Government's Public Sector Decarbonisation Scheme grant funding to deliver significant decarbonisation measures at seven of our corporate buildings namely: Bury Adult Learning Centre, Bury Fish and Meat Market, New Kershaw Centre, Ramsbottom Civic, Ramsbottom Pool, The Met and Bury Town Hall
The Council is now undertaking an asset rationalisation programme to reduce the number of council assets and ensure those that remain are fit for purpose and meet the needs of our communities now and into the future
It is to be noted that the data contained within this report does not capture the emissions associated with working from home and agile working which has increased since 2020/21 due to the coronavirus pandemic
Bury has been successful with two £20 million Levelling Up fund bids, to support the development of a new civic hub in the heart of Radcliffe's town and a new market flexi hall, to strengthen Bury's town centre offer. We will be integrating carbon neutrality into the development of both projects
Energy use and Generation Reduction
Although our energy use has shown a downward trend our energy bills showed an increase of £175k from 2020/21 to 2021/22. This is possibly a result of more people returning to workplaces and schools following the end of the severe Covid restrictions. It is expected given the current energy crisis that our bills will continue to increase significantly over the coming year, highlighting the necessity of decarbonising our estate and increasing local energy production
12,181 low energy LED streetlights have been installed meaning that nearly 60% of Bury's streetlights are now LED. 90% of these LED lights are on side roads which represent only 15% of the total electricity use of our streetlighting. We are now looking at the next phase of LED roll out which will involve converting the larger main road units which represent the majority of streetlighting electricity use
Total electricity generated from council operated renewables in 2021/22 was 116,676kWh which saved 25 tonnes of CO2e. Bury is working with the Greater Manchester Combined Authority as part of the "Go Neutral" scheme which will look to further utilise our assets for renewable energy generation
One of our biggest sources of carbon emissions is school buildings and it is recognised that engaging with school children is vital to reduce emissions of our schools as well as emissions associated with homes across Bury. With this in mind, the Council continue to work with schools and held a climate conversation with school age young people on 12 November 2021. This allowed a frank discussion on local climate change issues and acted as a forerunner to our planned Schools Climate Conference in Summer 2022
Transport
Council officers can make use of the Cycle2Work scheme which helps employees to purchase bikes and equipment using salary sacrifice. So far 87 officers have used this scheme to purchase bikes and equipment on this scheme
The council have allocated £10million for the updating of our vehicle fleet to reduce harmful emissions and start the process of converting to electric vehicles and other low carbon fuels where feasible
Conclusions
Bury Council have so far achieved a 63% reduction in carbon emissions compared to the base year of 2008/09. This is a significant improvement, but there is more work to do and reaching the carbon-neutral target of 2038 will require fast and decisive action across all Council assets and operations.
It should be noted that the Covid-19 pandemic may still have affected some of the data in 2021/22 and we will have to wait for the Greenhouse Gas Report for 2022/23 to see a truer representation of the emissions associated with the council's current work practices.
There is still much to do to get to carbon neutrality and therefore the Council must continue to promote awareness and encourage Officers to act; make improvements to Council assets more energy efficient, increase renewable energy generation across the borough, update the Council fleet to low emission vehicles, continue to develop the climate action agenda and work with Bury's communities along this journey towards a cleaner, greener and healthier future.