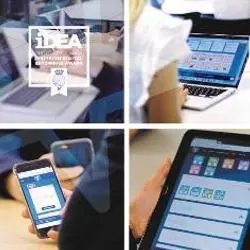 What is iDEA?
iDEA is the Inspiring Digital Enterprise Award, a free programme to develop your digital and enterprise skills.
Bury Council is promoting the scheme as part of our drive to get people digitally active and improve the digital skills of residents.
Why is iDEA different?
iDEA is not about sitting in a classroom. It's made up of bite size online courses which are relevant to real life.
There's no pressure or time limits, and you can do as much or as little as you want.
Each time you complete a course you earn points, which count towards an award. Put this on your CV and you can show an employer the skills you've learned. Or you can just dip in and out of the scheme to learn about topics which are useful and of interest to you.
What can I learn?
iDEA offers something for everyone, including people with no, limited or advanced digital skills. Broadly the bite size courses cover:
digital basics and how to stay safe online
tools and techniques useful in the workplace
creating digital products like websites, videos and more...
skills to help you develop business ideas, including marketing and using social media
Let's get started
Go to the iDEA website using the link below to find out more and sign up.
Everyone in Bury who takes part can get a head start with the Digital Bury badge. When you have signed up choose the 'have a badge code' option and enter BURYGOODiDEA