Opening hours
| Day | Opening hours |
| --- | --- |
| Monday | Closed |
| Tuesday | 10.00am to 1.00pm and 1.30pm to 4.30pm |
| Wednesday | 10.00am to 1.00pm and 1.30pm to 4.30pm |
| Thursday | 10.00am to 1.00pm and 1.30pm to 4.30pm |
| Friday | 10.00am to 1.00pm and 1.30pm to 4.30pm |
| Saturday | 10.00am to 1.00pm |
| Sunday | Closed |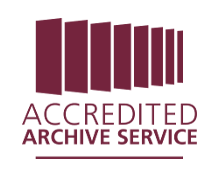 Archives and library catalogues
Whether you are interested in the history of Bury or want to research your family history the Archives service is here to help.
We are working on merging the library and Archives catalogues but for now please search both for the records you're looking for. Before searching the catalogues, you may want to view a summary of catalogue resources..
The Archive
To access records that are stored in our archive you will either need to book an appointment to visit us, commission research to be carried out on your behalf (£) or, where you can identify a specific record, order a copy (£). Please contact us to find out more.
The Search Room
You are welcome to use this space for self-directed research. The items available to be viewed without prior appointment include; historic maps, local publications, church record transcripts and other reference materials. An appointment will be required to access resources that are not housed in the search room.
Bury Archives Online
Update 8 August 2022:- The Bury Archives Online website is currently offline. We are not sure when the website will be back online but any enquiries can be sent to archives@bury.gov.uk or you can ring 0161 253 6782. We apologise for any inconvenience this may cause.
Bury Archives Blog
Take a look at our blog for an insight into the work we do and records we hold here at Bury Archives.
Reference material and help with research
Bury Libraries and Archives have a vast resource of books concerning the history of the borough. Whilst the majority are for reference only there is a small selection that can be borrowed using your library card. An appointment is required to view items that are stored on microfilm or microfiche format so that the relevant equipment can be reserved.
Computers are available for you to perform research and to access Ancestry for free.
We can carry out research for you, for a fee. Please submit a research request online or contact us for details on the range of research options we offer. Please note: Planning-related research attracts a higher fee so we ask that you do not use the button below to request such research. Please contact us by email or telephone for this type of research
Local history items on Borrowbox
We have added a small collection of items of local interest to our eBooks service Borrowbox. These items are available to borrow in the same way as you would the eBooks and eAudiobooks in the main Borrowbox collection.
eMagazines
There are several local and family history magazines available for free download. See Search for local and family history magazines to search for local and family history magazines.
Project work
Staff from the Archives service have worked with Council colleagues and other agencies to produce study resources utilising primary source materials from the Archives and local history collections. Please see our project work page for details of Bury Remembers the First World War, Cotton Threads, and Safety in Numbers projects.