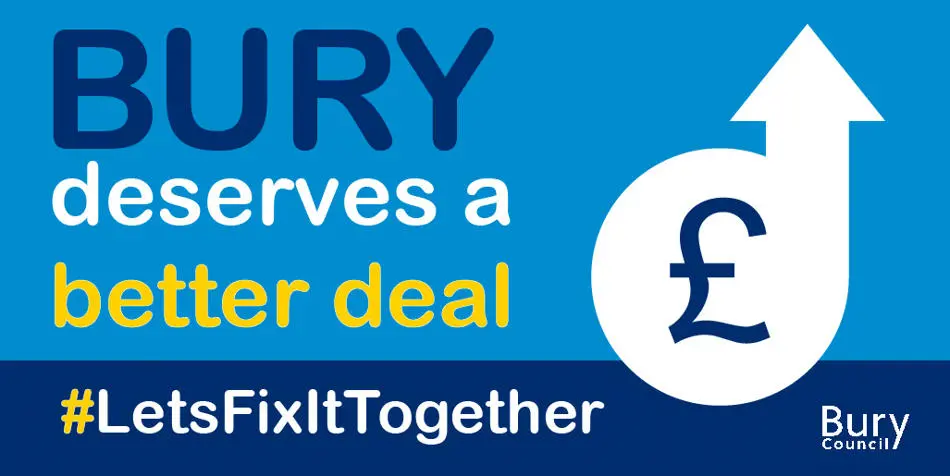 Did you know that Bury is one of the lowest-funded councils in England?
The funding disparity for Bury has always been unfair but is becoming unsustainable as, like the rest of the sector, we grapple with huge spikes in inflation costs and demand for services – particularly in adults' and children's social care, which together make up nearly three quarters of the council's net expenditure.
The Council has been making savings and efficiencies for many years in order to balance the books. Our regeneration strategy will, in the medium term, grow the local economy and increase income to fund council services. But we find ourselves facing dire financial prospects right now, with cost pressures exceeding 17% of the budget this year against an income increase of just 7%.
While careful planning means we are still in a position to set a balanced budget for 2024/25 this is not sustainable for the future.
That is why we're calling on government to complete the long-awaited review of council funding and for residents to do their bit to keep our borough and its communities flourishing.
Read the facts here and find out what you can do to help
Fact 1:
Bury is in the bottom 20% worst-funded councils – ranking 122 out of 150 upper-tier English local authorities in terms of money to spend per resident.
In Camden the council has £1,331 to spend on every resident – in Bury it's just £792.
Fact 2:
Our annual real term core spending power* has been reduced by 29% since 2010/11.
During this time government funding has gone down by 55%.
Fact 3:
Government funding cuts and unfunded pressures such as inflation and increased demand have left us having to find £150 million savings since 2010/11.
* Government funding plus council tax. Real terms in 2019-20 prices. This is the government's preferred measure of Local Authority revenue income.
What we're asking for
The Autumn statement on 22 November is a chance for government to recognise that there are pressures that cannot wait and Bury, like many councils are. is struggling to meet needs and still balance our budgets.
We're calling for:
Adequate funding in line with inflation and the demand for services
Multi-year funding to give us the certainty to be able to plan our budgets and minimise service disruption
Comprehensive fiscal reform, covering all key aspects of local funding, to secure a stable source of revenue for our vital public services.
How you can help
You can help by:
Showing your support by signing-up to receive more about the campaign in our Bury Now e-newsletter (to sign-up tick the appropriate box when you sign the petition form)
Doing your bit to make the money go further. Can you recycle more? Do you spend money locally? Could you foster or adopt? Every extra helps.