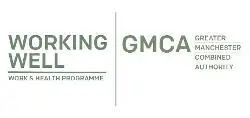 Working Well service
The Working Well service supports unemployed residents, who have a health condition or disability, that want to move into paid work.
You'll receive specialist services, that are right for you, which may include:
Advice from qualified health professionals
Access to specialist services, relevant to your situation
A personal, one-to-one service
Help identifying your skills
Advice about finding work, when you're ready
Exclusive job vacancies
Continued support once you are back in work
Want to know more?
Visit the In Work GM website, contact us or speak to your JobCentre Plus work coach.